From the humble Sp-Sporter to the highest rank, Leader, everyone in the Spore Society has a ranking. Each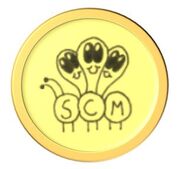 ranking comes with a badge, and in some cases certain privileges. Depending on your membership type, not all ranks may be available to you - for instance, only full members can achieve the coveted 'High As You Can Get'. Here is a full list of ranks in the Spore Society.
Ranks and their badges
Edit
| Rank | Badge |
| --- | --- |
| Leader | Gold |
| High As You Can Get | Silver (gold border) |
| Advanced Member | Silver |
| Inner Circle | Rainbow |
| Penpal | Green (blue border) |
| Member | Green |
| Sp-Sporter | - - - |
More information
Edit
Becoming a Sp-Sporter is easy, you just sign up, but you can also become a Member. 'Up to Penpal' Members cannot earn badges past 'Penpal' but are higher up than Sp-Sporters. Full Members can earn badges all the way up to 'High As You Can Get'. Only two people are in possession of the gold Leader badge - the founders - they cannot be earned. A Special Achievement badge may soon be brought out for dedicated members who have done something particularly well.
Some badges come with special privileges. For instance Members (and above) have free subscription to the magazine and Penpals (and above) are assigned a REAL SPORE to write to so they can learn more about these fascinating creatures! HAYCGs (High As You Can Gets) are often given important responsibilities within the Spore Club.
Community content is available under
CC-BY-SA
unless otherwise noted.