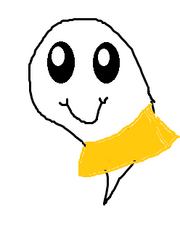 Miranda was Harry I supportive wife and Mother to 3 Royal Spores.
Profile
Full Name: Miranda Amerald Sporus (Nee.Spudnik)
Lifespan: 59 years.
Family Members: Edna (Mother)   Ernie (Father)  Arnie (Brother) 
Felix (Brother)    Spruce (Brother)    Jai (Brother)   Harry (Husband)  
Harry II Sporus (Son)    Kathy (Daughter)    Liam (Son)    Yacob (Grandson) 
Harriet (Granddaughter)  Jack (Grandson)   Eileen (Neice)  Rose (Granddaughter)  
Matt (Grandson)   Hugo (Grandson)  14 Other Grandchildren
Biography
Early Life
Miranda was born to Edna and Ernie Spudnik, into a family that already had 4 sons, Arnie, Felix, Spruce and Jai. She attended SporeSchool and excelled in Literacy, English and Spetball. She got good grades in her SCSEs and then (we assume) joined the political career because that's where she met Harry.
Work
She reachd a high rank in the Political career, on the way meeting Harry Sporus. She enjoyed her work and became Prime Minister's Scribe at age 27. (Before Harry became Prime Minister)
Personal Life
Miranda married Harry at age 30 and at age 33 gave birth to her first child, Harry II. Three years later, the couple had twins-Kathy and Liam. She continued her job as Scribe, although had flexible hours to look after ther children due to her Husband being her boss.
Death
Miranda died at the hands of Gregor-nn the Ultimate Ant, responsible for 100% of all Spore Ant deaths . (Ok there are only 5). At 59, she just couldn't defeat the greatest ant alive. She is remembered as a coragous woman.
Community content is available under
CC-BY-SA
unless otherwise noted.