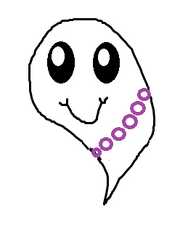 Kathy was the daughter of Harry I. She lived up to the family name, and went on to become an Antteacher.
Full Name: Katherine Jessica Sponk (nee. Sporus)
Family Members:  Emma (Grandmother)   Archie (Grandather) 
Harry (Father)   Liam (Twin)     Miranda (Mother)    Harry II (Brother)    
 Edna (Grandmother)   
Ernie (Grandfather)   Hannah (Aunt)  Michelle (Aunt)   Arnie (Uncle) 
Felix (Uncle)   Jai (Uncle)    Spruce (Uncle)    Eileen (Cousin) 
17 other cousins
Biography
Edit
Early Life
Kathy was born 5 minutes before her twin Liam. They were born to Harry I and Miranda. They already had an older brother (Harry II) and were often overshadowed by him, or overlooked by the general public, however Miranda made sure all her children were equal.
When their Dad was made SC Representative, the twins were suddenly pushed out the picture even more, as Harry II would take on from his Father. This led to Harry I showing his heir all the ropes, and often forgetting about the small children his wife was looking after.
At school, Kathy excelled and followed in her Father's footsteps in Ant Infection-she proved to be a natural. She decided she wanted to teach Ant Infecting. At school, she, like her Father, made the Elite Ant Killing Team. This made her Father realise her more, and the often went Ant Infecting together. Kathy graduated with excellent SCSEs.
Work
Kathy attended Speacher Training when out of school, and soon aqcuired a job in the Ant Infecting Department in the Primary Sporeschool. She was promoted to Head of Department when Allyson Spamm retired. She enjoyed teaching young children very much, and it was her job to teach the younger students in the school.
Family
Kathy married Jerrard Sponk, a man she met at Speacher Training-who also became head of Literacy at Sporeschool (Primary). The two had three children- Rose, Matt,and Hugo whom they loved very much. Kathy continued to see Liam near daily, and supported him in his career.
Community content is available under
CC-BY-SA
unless otherwise noted.