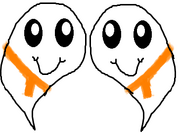 Jai and Spruce are twins born to Edna and Ernie Spudnik. They were mischevious, adventurous and unseperable. They went on to take over the family buisness.
BiographyEdit
Jai and Spruce were born to Edna and Ernie, who already had two sons, Arnie and Felix. They were born four years after Felix, and six years after Arnie. Their Mother was not expecting to have another baby after the first two, but went on to have twins and then another little girl the year after: Miranda.
At school, the boys were reknowned trouble makers. This meant that they often did not reciece as good marks as prehaps they were capable of, but they were popular members of the class. Jai excelled in English and Buisness, whilst Spruce found refuge in Science and Maths. When they both recieved top marks in their chosen SCSEs, they were the ideal and a very formidable team to take over the family buisness.
When their Mother and Father retired, they handed over the buisness to the twins. Arnie was too busy explring the jungles, and hunting for new ingredients. Felix was head of the bank and although sometimes an asset to the finance department, was not interested. Mianda had married Harry I and was unable to take over.
So Jai and Spruce did all they could to make the Leaftee industry even better than it was before. They introduced many new flavours (including one they invented as children, but was dismissed by their Mother) that turned innto Sporewide hits. Jai controlled the buisness side of things, whilst Spruce concentrated on the production. The boys had to worl together a lot, which is why they were ideal-not hating each other was very important.
Spruce and Jai married fraternal twins Diane and Morag respectivly. Spruce and Diane had two children-Callum and Emily whilst Jai and Morag had three-twins Kyle and Clarkson and daughter Meg. Callum was born 6 months before the twins, and Emily was born two years after him: Meg was born two and a half after her brothers. They were very close families, even living together.